Operation Smile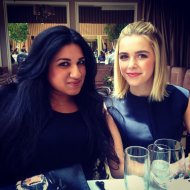 On Tuesday, the Sunset Tower hosted beaming starlets and their makeup artists for Dior Beauty's annual luncheon to benefit Operation Smile. The medical charity, which provides cleft-palate surgeries and repair for children in low-income countries, was the beneficiary of the star-studded event that celebrated, what else, smiles. To wit, our favorite Instagram snaps of the afternoon below.
Read more Katy Perry Wears PJs Bearing Her Dogs Face
1. Makeup artist Kirin Bhatty and Mad Men actress Kiernan Shipka. (pictured above)
2. Brooke Burke snapped a selfie alongside makeup artists.
Read more Jennifer Lopez's Famous Grammy Dress Helped Spawn Google Images
3. From left: actress Sarah Hyland, Dior Beauty's Christy McCuaig, makeup artist Allan Avendano and actress Willow Shields.
4. Model Alessandra Ambrosio with her makeup artist Sabrina Bedrani.
5. Actress Sarah Hyland gets silly with Dior's McCuaig (center) and illustrator Jamie Lee Reardin.
Read more Burberry Drafts British Acts, Models for Griffith Observatory Bash
6. Actresses Sasha Alexander and Minnie Driver.
7. Makeup artist Pati Dubroff with actress Odeya Rush.
8. Makeup artist Daniel Martin along with actress Amber Stevens West.
You might also like
97 Ways to Make a Dog Smile


Book (Workman Publishing Company)




Paperback, Dog book
funny dog book
train dog book
bonding with dog book