Facial Muscles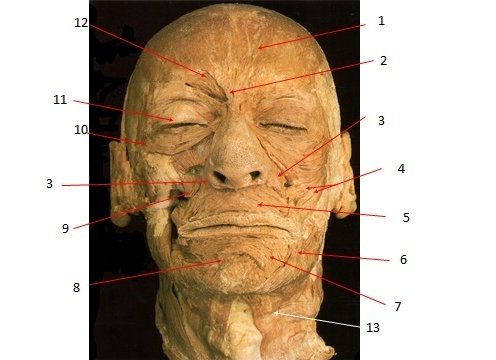 The Facial Muscles, and in particular those in the lips, help to shape the sound and air stream into recognizable speech. Visible in this image (click on it), these muscles move the face in response to our thoughts, feelings, emotions and impulses. Actors work very carefully to learn how to isolate each muscle. It is useful to learn to recognise the various muscles in order to better isolate them, so that any extraneous movement is eliminated and the muscles used are those desired. Also by recognising the muscles' shape, it is easier to understand how the face is moved by these muscles.
They are:
frontalis: the forehead
corrugator: the brow
nasalis: the nose
obicularis oculi: around the eye
levator labii: raises the upper lip
masseter: closes the jaw
Obicularis oris: purses the lips
risoris: draws the lips in a smile
buccinator: pulls the lips wide and tight
depressor labii: lowers the lower lips
depressor anguli oris: lowers the bottom corner of the lips
levator anguli oris (not shown): raises the upper corner of the lips
pterigoid (not shown): pulls jaw back or shut
mentalis: pulls chin down
This image features a clear side view of the facial muscles. You can see the temporalis muscle, those on your temples under the hairline just above your ears, very clearly. These are very active in chewing. Also visible is the large strap of the buccinator muscle (latin for bugler), which pulls the side of the mouth wide.
The platysma muscle covers the front of the neck, and is the muscle closest to the surface. This image shows the angle at which one feels the platysma best, by lifting the chin while turning the head to either side. This muscle often tries to "help" as we speak, and learning to relax it can be very difficult for some. It attaches to the jaw line and to the clavicle as it smoothes over the neck.
For speech, the most important facial muscles are those that move the lips. All other muscles we want to relax as much as possible, especially the jaw muscles. In fact, some models are now having "botox", a form of botulism toxin, injected into some of their facial muscles, like the corrugator and frontalis, so that the muscles won't work and won't create wrinkles.
You might also like
Tens Handheld Electronic Pulse Massager Unit - Excellent Muscle Stimulator for Electrotherapy Pain Management


Health and Beauty (Santamedical)




Six Auto Modes (stimulation programs) , Fully-adjustable Speed and Intensity, High Frequency stimulation to relieve pain
4 Attachment pads included, Power: DC 6V (4 batteries included)
Best unit for Stress, Muscle Soreness, Stiffness, or Chronic Pain. The Simplest Tens Pulse Massager Is Also the Most Advanced
LCD shows massage style, intensity and time remaining; Three selectable massages
Small and Lightweight - At only 5.3 ounce, is no bigger than a remote control, , this unit packs enough power to thoroughly massage your body, but can travel with...
Beautyko CF-0002 Chin Fit Facial Massager


Health and Beauty (Beautyko)




Stimulate the facial muscles with electronic muscle stimulation (EMS) technology; Smooth away lines and wrinkles
Rejuvenate your complexion by lifting and firming double chins
Tighten sagging skin and reduce expression marks
Tone strengthen and combat flabbiness
Helps promote blood circulation to surface skin tissue
Handheld Massager Facial Beauty Face-lift Personal Massager


Health and Beauty (Szeretet Store)




Activation of epidermal cells to promote the smooth flow of the sebaceous glands and prevent sagging skin and make the skin moist and smooth, elastic
Beat, knead, pinch and other massage
15 minutes automatic shutdown, safe and reliable
Specifications: Size: Body length 10 x width 7.5 x height 2.5cm, cable length 110cm Material: ABS resin, silicone, other Power: Battery Weight: 162g
Package Includes1x Face-lift machine 2xChin with a patch 2xEyes with patch 1xPatch cable (2 SMT Interface) 1x Box

The 5-Minute Facial Workout: 30 Exercises for a Naturally Beautiful Face


Book (Robert Rose)




The 5 Minute Facial Workout Book
Help ward off the effects of aging in just 5 minutes a day!
Regular performance of facial gymnastics has a significant effect on your face structure and complexion.
Includes 30 easy (and fun) muscle fitness exercises with full-color photos.
Softcover; 192 pages.

Face Slimmer Mouth Muscle Tightener Facial Exercisers Anti-aging Anti-wrinkle Beauty Tool


Beauty (88ding store)




Material: Rubber
Size: 7*2*2cm
Slim your face evey time and every where.
Facial Exercisers