I Smile because
Earlier this week, one of the questions in the "Catch the Mania" trivia tournament at the Ruck involved filling in the missing word or words from Dr. Seuss books. That was all fine and good, until the final question was asked.
"Don't cry because it ended. ____ because it happened."
Okay, all you Mad Libs and Match Game '73 fans, I'm sure you can come up with a better response than the true answer… that being said, I've heard that quotation before. And I had no idea Dr. Seuss said it. And if he did say that… well, the operative word is "if." And that's what this blog post is about.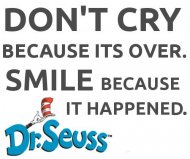 I've heard that "Smile because it happened" quotation a lot more these days. It's often used as a thematic bandage, an effort to remember the good times when you're stuck in the bad times. Hey, did your car break down? Be thankful you had a car. Life sucks? Be thankful you have a life.
The reason I even remember that quotation is because it's also used in the dating world as an "all-purpose dumping" quote. It's the quasi-shorthand of, "Hey, I'm breaking up with you, but here's a quote from Dr. Seuss, the guy who wrote all those great children's books. And you know what? These words from Dr. Seuss describe our relationship. I'm dumping you, but you should be happy you even got to spend SOME time with me, but I'm moving on to better things. Better things than you. So have a good life."
And now I've found out who said that infernal statement. All that's left for me to do now is to find which one of Dr. Seuss's many books contains this quotation. I want to know which text and in what context were these words used. Because if this little quotation actually CAME from one of Theodore Geisel's books…
The Cat in the Hat? Nope. Not there.
Green Eggs and Ham? I find it's not in here, Sam I am.
The Lorax? Don't see it. Lots of trees, but no quotation like this.
Oh, the Places You'll Go! doesn't have that phraseology.
The Butter Battle Book? Okay, Chuck, now you're going for the deep stuff.
Daisy-Head Maizie? And now we're going to the posthumous stuff.
But no matter how hard I looked, searched, dug, excavated, dynamited, whatever…
I couldn't find the quote in any of his texts. The Grinch never said it. Neither did Yertle the Turtle, neither did Horton the Elephant, neither did Marvin K. Mooney, neither did Bartholomew Cubbins, whether it was with his 500 hats or with the Oobleck. Heck, I thought maybe it would appear in one of Dr. Seuss's old advertising campaigns, but all I could find in that vein was "Quick Henry, the Flit!"
See also:
You might also like
Sangu Hope Hard Back Shell Case / Cover for Ipad Mini


Personal Computer (Sangu)




The case boasts unique art design
Perfect fit for your Ipad Mini
Stylish protection with full access to all ports, buttons and cameras
Ultra thin, light-weight.
It will be taken comfortble feeling to you
APPLE IPHONE 5S Or APPLE IPHONE 5 Premium Pretty Design Protector Hard Cover Case + Screen Protector Film + 1 of New Metal Stylus Touch Screen Pen (Black Silver Smile Panda Bear)
Wireless (WAM Apple Iphone 5S / Iphone 5)
Perfect fit for Apple Iphone 5S / Iphone 5
Premium Hard Cover Protector Case + Screen Protector Film + Metal Stylus Touch Screen Pen
Made of High Quality Durable Plastic Material
Provides Great Protection from Scratch and Scrape
1 of New Metal Stylus Touch Screen Pen (4 Height, Random Color- Black, Silver, Hot Pink, Green, Light Green, Red, Blue, Light Blue, Purple and Gold)
LEGO Friends Heartlake High 41005


Toy (LEGO)




Features basketball hoop, entrance with lockers, deli, art classroom, science classroom, bathroom, a picnic table and accessories
Open the doors, windows and lockers; the art classroom features an easel, painting bottles, cabinet with drawers, table with flowers and 2 seats
The science classroom features 2 benches, a cabinet with a microscope, chemistry bottle, books, blackboard, an astronomy telescope, teacher s desk
LEGO Friends pieces are fully compatible with all LEGO System bricks; collect all of the LEGO Friends sets for a whole world of LEGO Friends fun
LEGO mini-dolls are LEGO figures made for the world of LEGO Friends that can be customized and combined

Umpqua Oats Variety Pack Super Premium Oatmeal, 12-Count


Grocery (Umpqua Oats)




All Natural Super Premium Oatmeal in a variety of flavors!
Four Kick Start, four Jackpot, four Mostly Sunny packages
Certified Kosher, gluten free & vegan
Single serve cups, great for on the go!
Manufactured and distributed from the United States

Decal Stickers Smile Skull Decor Motorbike Bicycle Vehicle ATV Racing Green (7 X 4.77 In)


Art and Craft Supply (oneclickstickers)




Sticker size is 7 X 4,77 inches. Sticker Color is Green
60 micron polymeric vinyl. Water Resistance: Vinyl self adhesive Fully water resistant and weather resistant.
Decals are made of polymeric vinyl permanent adhesive and a 6-7 year outdoor rating. Can be applied wet or dry. Cannot be applied on walls or other porous surface...
Store Discounts for identical stickers:-- 1) more than 5 stickers -5% 2) more than 10 stickers -10% 3) more than 20 stickers -15%. 4) more than 30 stickers -20%...