Who are the Beach Boys?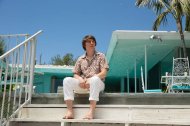 Roadside Attractions
In "Love & Mercy, " the new biopic about Beach Boys founding member Brian Wilson, the story is split in two. Paul Dano plays the younger version of Wilson in the mid-1960s, when he was writing the music for the band's album "Pet Sounds, " experimenting with drugs, and dealing with blowback from his father and brothers about the strange new songs he was composing. That period is interspersed with scenes from Wilson's life in the '80s, played by John Cusack, when he was under the control of Dr. Eugene Landy (Paul Giamatti), his manipulating therapist.
For music fans, the Dano performance is most interesting. Many scenes take place inside the actual "Pet Sounds" recording studio, with Dano depicting Wilson as a mad-scientist type conductor, taking joy in discovering each new sound that gets laid down to tape. Dano is known for playing eccentric characters throughout his career, with memorable roles in "Little Miss Sunshine, " "There Will Be Blood" and "Ruby Sparks." He says his initial nerves of playing the revered pop musician wore off quickly after he got the part. "When I started listening to the 'Pet Sounds' sessions and 'Smile' sessions, it all started to fade, " he said.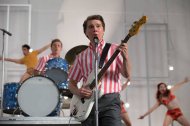 Below, an edited transcript from an interview.
To play "Pet Sounds"-era Brian Wilson, what was the first thing you tackled?
There's probably nothing more fun to research than the Beach Boys, 1960s Los Angeles. I'll probably never find a better acting job. I did a lot, but it's the music. Listening to the music, listening to the studio sessions. Even more important was learning to play the songs. Learning the piano a bit and working on my voice. Learning to play Brian's songs, without question, brought me closer to the character. Music is one of the most universal arts there is. Brian is his music.
See also: