Bond restaurant NYC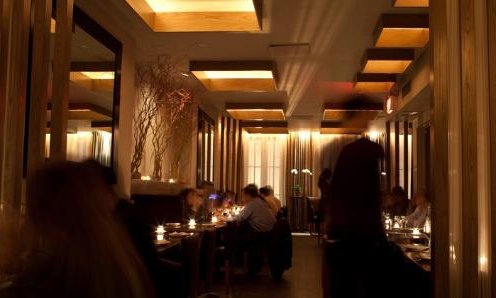 IF you are over 30, weigh more than 105 pounds, favor bright colors or bite your fingernails, Bond Street could do you damage. No matter how confident you may be in the real world, it is hard to face an entire universe of thin, young, beautiful people dressed in black without wondering what you are doing there. Especially when you watch their chopsticks flash through the perfumed air to pick up bits of ''hot eel dice.''
But once you get past the sheer fabulousness of the crowd, the attitude at the door and the cool glamour of the small dining room, you discover a surprising sweetness. Bond Street is an earnest Nobu emulator, and the waiters describe the inventive Japanese dishes with painstaking care. They can also elaborate upon the various sakes on the list. One overly enthusiastic waiter even blushed when I raised an eyebrow at his mention of ''organic foie gras.'' ''Oh, of course not, '' he corrected himself. ''I'm just used to working at Bouley, where so much of the menu is organic.''
When he finished blushing he urged me to try the grilled ayu, a special that night. I was glad I had taken his advice. The ayu, a small silvery fish that is a Japanese springtime delicacy, was served whole so that the diner could appreciate the way the flavor varied with its anatomy. The flesh was sweet near the head, but it took on an appealing bitterness near the liver. The fish was so delicious I almost asked for seconds.
But there were other appealing dishes on the table. Marinated black sea bass was served with ginger ponzu sauce and a refreshingly crunchy risotto made with soba seeds. Kanpachi (amberjack) arrived in a grainy daikon dressing enlivened with chilies. And striped bass was set on a frozen shiso vinaigrette, a sort of herbal sorbet so clever and delicious it is sure to be imitated.
There are many tricks worth copying here, among them the spectacular presentation of the chef's-choice sashimi and sushi called omakase. Ask for it and the waiter will ask about your budget. Splurge and you will be rewarded with pristine slices of sashimi nestled against a crystalline block of ice and decorated with fresh flowers. On the side there will be a chunk of wasabi root and a grater so you can make your own incendiary condiment. Sushi will follow, perhaps fluke molded around rice and wrapped into lovely bamboo leaf packages, or pressed sushi topped with marinated mackerel and cherry blossoms.
Other interesting sushi stylings include a narrow tray holding a row of roe-topped bites of rice: osetra caviar, sea urchin roe, flying fish roe, cod roe, even herring roe. The rolls, like diced eel embellished with almonds, are also inventive.