Happy smiling Quotes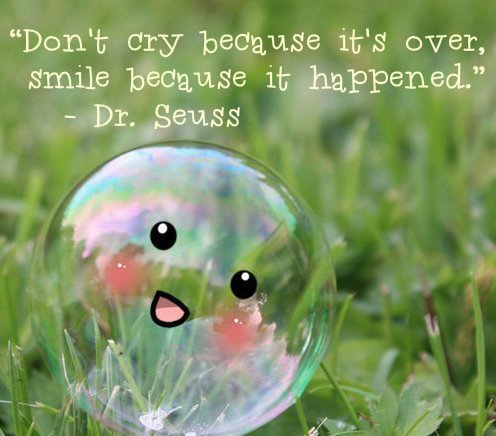 Smile and laughter quotes will show how smiles and laughter can make your days sparkle with happiness.
Laughter, some said it's the best medicine in the world.
So start smiling and laughing as much as you can. Have a hearty laugh over every amusing situation. Laugh even at yourself and smile at the simplest pleasures in your life.
With smiles and laughter, your days will become lighter, more joyous and more bearable even on those hay-wired days. Your smiling face looks much more appealing and beautiful too.
Give away your smiles freely and in abundance. Spread your laughter around as it's contagious.
Enjoy these smile and laughter quotes!
A friendly look, a kindly smile, one good act, and life's worthwhile.
- Author Unknown
A good laugh and a long sleep are the best cures in the doctor's book.
- Irish Proverb
A hearty laugh gives one a dry cleaning, while a good cry is a wet wash.
- Puzant Kevork Thomajan
A kind heart is a fountain of gladness, making everything in its vicinity freshen into smiles.
- Washington Irving
A laugh is a smile that bursts.
- Mary H. Waldrip
A man isn't poor if he can still laugh.
- Raymond Hitchcock
A smile appeared upon her face as if she'd taken it directly from her handbag and pinned it there.
- Loma Chandler
A smile confuses an approaching frown.
- Author Unknown
A smile costs nothing but gives much. It enriches those who receive without making poorer those who give. It takes but a moment, but the memory of it sometimes lasts forever. None is so rich or mighty that he cannot get along without it and none is so poor that he cannot be made rich by it. Yet a smile cannot be bought, begged, borrowed, or stolen, for it is something that is of no value to anyone until it is given away. Some people are too tired to give you a smile. Give them one of yours, as none needs a smile so much as he who has no more to give.
- Author Unknown
A smile is a curve that sets everything straight.
- Phyllis Diller
A smile is a powerful weapon; you can even break ice with it.
- Author Unknown
A smile is an inexpensive way to change your looks.
- Charles Gordy
A smile is the light in the window of your face that tells people you're at home.
You might also like
Xander inspirational quotes - happy smiling face with heart eyes on white background - 12 x 18 inch Garden Flag (fl_201896_1)


Lawn & Patio (3dRose LLC)




Overall dimension (in inches): 12 x 18; image size (in inches): 10 x 10
Made of 100% single-ply semi-opaque polyester
Image is printed on one side, with a lighter image visible on the backside
Suitable for hanging from a flag pole (8mm in diameter), on a wall, ceiling, banisters or doors
Hanging hardware/pole not included
ts_201896_35 Xander inspirational quotes - happy smiling face with heart eyes on white background - T-Shirts - Adult Light-Pink-T-Shirt Medium


Apparel ()




Adult and youth sizes are a blend of 50% cotton, 50% polyester.
Toddler sizes are 100% cotton.
Available in white, grey, light blue or pale pink.
Custom printed image applied.
Washing instructions: Do not use bleach, dry on low heat, turn inside out
Happy Marilyn Monroe Keep smiling Quote Cell Phone Case for Iphone 6


Wireless (Happy)




Imported
Custom
100% Brand new and high quality
Fashion Design,Light Weight,Top Quality
flexible

Smiling is the Secret to Happiness - NEW Classroom Motivational Poster


Office Product (PosterEnvy)




Smiling is the Secret to Happiness - NEW Classroom Motivational Poster
12 x 18 Poster on High Quality heavy 80lb satin cover paper - durable and can stand up to all kinds of abuse and it won t pucker and wrinkle like others do.
We ship orders out FAST (usually with 24 hours) in heavy duty cardboard tubes!
PosterEnvy has sold thousands of unique educational posters to thousands of happy customers around the world!

gc_192418_2 Xander inspirational quotes - happy, blue letters with happy face picture on white background - Greeting Cards-12 Greeting Cards with envelopes


Office Product (3dRose LLC)




Dimensions (in inches): Card 5.5 H x 5.5 W, envelope 6 H x 6 W
Heavy duty card stock with blank interior
Additional postage may be required
Cards are creased for easy folding
Set of 12 greeting cards; 12 white envelopes included.