Picture Quotes on Happiness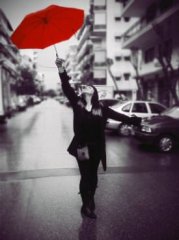 We all want to be happy. But for many of us, happiness is an elusive, fleeting state that we can capture only for a brief moment, before it floats away like dust in the wind.
The truth is that as human beings, almost all of our forward momentum is driven by the pursuit of happiness. Even the desire to socialize, to love, and to connect with other human beings is driven by our desire to be happy. The pursuit of better jobs, higher status, more wealth – the root of everything we're chasing is happiness.
This certainly doesn't mean that everything we chase WILL bring us happiness. In fact, a big part of our struggle with life is figuring out what makes us happy, and perhaps more importantly, what makes us consistently happy.
On Being Happy – Quotes
"If you want to be happy, be." – Leo Tolstoy
"We all live with the objective of being happy; our lives are all different and yet the same." – Anne Frank
"Don't cry because it's over, smile because it happened." – Dr. Seuss
"You don't develop courage by being happy in your relationships everyday. You develop it by surviving difficult times and challenging adversity." – Epicurus
"Many persons have a wrong idea of what constitutes true happiness. It is not attained through self-gratification but through fidelity to a worthy purpose." – Helen Keller
"Most people would rather be certain they're miserable, than risk being happy." – Robert Anthony
"The fact is always obvious much too late, but the most singular difference between happiness and joy is that happiness is a solid and joy a liquid." – J.D. Salinger
"There are two ways of being happy: We must either diminish our wants or augment our means – either may do – the result is the same and it is for each man to decide for himself and to do that which happens to be easier." – Benjamin Franklin
"If a person's basic state of mind is serene and calm, then it is possible for this inner peace to overwhelm a painful physical experience. On the other hand, if someone is suffering from depression, anxiety, or any form of emotional distress, then even if he or she happens to be enjoying physical comforts, he will not really be able to experience the happiness that these could bring." – Tenzin Gyatso, 14th Dalai Lama
"Success is not the key to happiness. Happiness is the key to success. If you love what you are doing, you will be successful." – Albert Schweitzer
"No one is in control of your happiness but you; therefore, you have the power to change anything about yourself or your life that you want to change." – Barbara DeAngelis
See also:
You might also like
Dnven Love Live Laugh Dream Believe Imagine Faith Courage Hope Happiness Home Vinyl Wall Decals Quotes Sayings Words Arts Decors Lettering Vinyl Wall Arts for Stairs
Home Improvement (Dnven)
Applied size - DIY! Please see picture for reference. Paper sheet size: 23 x30
Easy to apply - just use transfer tape!
Ideal for Walls or Glass. Will not damage walls or surfaces.
Peel & stick product export to the USA
All rights reserved by Dnven®. Any unauthorized uses are illegal.
Framed Print - Living Life Journey - Inspirational Quote by Bonnie Mohr Country Rustic Picture Art 14" x 10-1/4"


Home (CWI)




Print by Artist Bonnie Mohr is Very Inspirational
Features a Tree with a Lovely Saying in a Split Wood Frame
Click on Art for Detail of Print & Saying
Made in the USA
Frame Outside Dimensions are 14 high x 10-1/4 wide.
Happiness Is Taking A Long Hot Bath Wall sticker quote - bathroom Letters Decals Wall Quote Removable Letters Decals Lettering Home Removable Letters design quotes


Home (Quote Designs)




Shipped from the USA - Made to Order With Premium Quality Material
Wall Decal Color: Black
28 Wide x 13 High
Can be used on wall or any other smooth surface
self adhesive wall decal - easy to setup

LUCKKYY(TM) Happiness is a Long Hot Bubble Bath Wall Decal Bathroom Quotes Shower Stickers Sayings Tub Lettering


Baby Product (LUCKKYY)




Finish reference picture size: 16.5 inches tall by 43 inches wide
Easy to Install; Just Peel and Stick on the Wall
Non-toxic and free of harmful chemicals
No sticky residue left on walls
Decorate Baby and Kids Nursery, interior walls or windows of home, bathroom, office, dorm, or store

You are my sunshine With Sun Happiness Quote Design Kids Bedroom Picture Art - Peel & Stick Sticker - Vinyl Wall Decal - 24 Colors Available 10x20


Home (Design With Vinyl Decals)




** All Pictures In This Ad Do Not Represent The Actual Size Of The Decal **
Please Email Us If You Want A Color Other Than Whats Shown. Your Decal Will Be Sent AS Seen Unless You Email Us With Your Color Choice At The Time Of Your Order...
Multicolored Decals Can Only Be Made AS Seen And Can Not Be Changed Into Other Colors.
Available Color Choices : Black, White, Red, Burgundy, Dark Brown, Orange, Yellow, Lime Green, Kelly Green, Dark Green, Teal, Baby Blue, Medium Blue, Dark Blue...
Easy To Apply To Walls, Doors, Glass And Other Hard Surfaces With Application Instructions That Are Included - No Painting Required ! No Need For Messy Paint And...