Shopping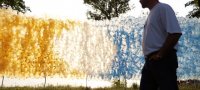 Plastic bags might be the most annoying and harmful byproducts of our consumer society. There are few more sorrowful views in nature than a tree covered with polyethylene. Unless, of course, you're talking about the work of Endre Koronczi.
Hungarian artist Endre Koronczi had a strange vision of plastic bags becoming a living, breathing part of nature, and he created a crazy art installation called Ploubuter Park. The artist even wrote a myth which tries to explain how the creation might have come to be: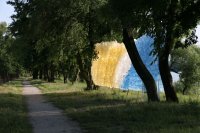 A few decades ago, a new species appeared in the urban environment. Their appearance is known to all, they spawn around high-traffic consumer centers and after they are unleashed, they start to have their stories on their own. Some stay close to their birthplaces but more wonder off on a long journey or serve the Man. By then all individual possesses its own personality. The light, almost bodiless creatures begin to live as separate souls.
Their movement is without any sort of regularity and repetition, showing common traits with living organisms.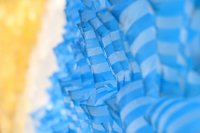 Studying them is a joyful task, during observation a variety of choreographies unfold before us. It is easy to spot the metaphor for freedom in their dance.
The souls float on the border between existence and vision. Their existence is characterized by immateriality and lightness, which is brought to life by the wind. The wind, which in itself can never been seen but only seen thought its consequences. In the trees' rustle, the light breeze touching our faces. Etc.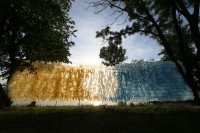 The Ploubuter Park is the home of the study of this newly discovered species. The architecture is based on the observation of the natural habitat of the species. Those, which had been categorized by their habitat and their behavior towards human, show a variety of pictures from the wild to the captured or domesticated, from the loners to the pack members.
This time we can study the pack-behavior of these souls in the controlled observation post which was installed in the airflow of the bank of the Danube.
See also:
You might also like
Fashion Shopping Mall: Stylish boys & girls, discover Beauty Salons, Fashion Boutiques,Clothing, Bakery & Restaurants stores just in time for Christmas!
Mobile Application (Stark Apps GmbH)
PLAY OFFLINE! No internet connection required
BUILD up from a tiny boutique to the worlds biggest Mall!
2 FREE Funny Fashion crazy Mini games to enjoy!
DAILY FREE GIFTS to send to your friends & family!
UNLOCK tastier and more complex recipes as you level up!
Shopping List - ListOn (Free)


Mobile Application (NalaDex)




Allows quantities and prices for any item.
2 visual styles to choose, with personalized sounds.
More than 600 suggestions of items to make your lists quickly.
Items classified by categories.
Multiple lists.
Share your list via WhatsApp, Line, E-Mail and SMS, or import items that have shared with you.
Etsy


Mobile Application (Etsy, Inc.)




Discover over 17 million unique items from 800, sellers around the world.
Explore what kindred spirits are favoriting on Etsy.
Shop whenever inspiration hits.
Manage your shop and orders with ease.

Wish - Shopping Made Fun


Mobile Application (ContextLogic Inc.)




Start shopping in a smarter and more rewarding way
Join over 10 million consumers
Personalized catalog of millions of products
Get special offers and gift cards for items on your Wishlists
Sell your own items! (US Only)
Secure and easy checkout

Wanelo


Mobile Application (Wanelo.com)




Find the best products in the world, all posted by users like you.
Collect and organize your favorite products.
Follow users and stores you like.